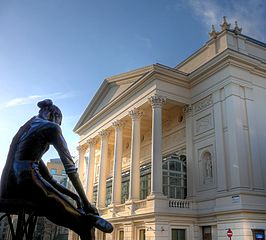 The Royal Ballet company has announced the Guest Artists who are due to don their show tights and ballet shoes and join the company for the 2012/13 season.
Tamara Rojo and Sergei Polunin are both set to return, despite Polunin's controversial exit from the company earlier this year: it could be argued that Polunin was too hasty to throw his legwarmers out of his well-made and preparatory pram. However, he is set to re-join the Royal Ballet Company as a Guest Artist which, presumably, can be the favoured option for some dancers. Rojo and Polunin will return to the Royal Opera House for three farewell performances of Marguerite and Armand on 12, 15 and 21 February 2013. The pair originally danced the ballet to audience acclaim in October 2011, and is now expected to do the same 2 years on. Marguerite and Armand will be Rojo's final farewell performance in Covent Garden as a reprise, before she takes up her new role as Artistic Director at English National Ballet in August 2012.
Additionally, Natalia Osipova is to debut alongside Carlos Acosta, a well-loved favourite of audiences globally. Osipova, Principal of the Mikhailovsky Ballet will make her Royal Ballet debut in Swan Lake, where she will dance alongside regular Principal Guest Artist Acosta on 10, 13 and 25 October. Next season will be Osipova's first appearance (with her tutu) with the company, and it seems the arts scene is greatly anticipating her work with Acosta who is renowned worldwide for his strength, artistry and phenomenal technique.
Tickets for Swan Lake are currently on sale with public booking for Marguerite and Armand opening on 17 October.
Image courtesy of Wikimedia Commons.