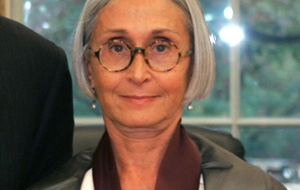 Twyla Tharp Dance recently took the premiere of its choreographer's latest creation to Italy, performed at the end of June when the company visited Florence, Ravenna and Rome. This Italian tour saw the preview of a new work as well as two works performed from Tharp's repertory. She has been creating dance for 50 years, and during that time she has choreographed over 160 works. These include 129 dances, 12 television specials, six Hollywood films, four full-length ballets, four Broadway shows and two figure skating routines.
Within this creative circuit, Tharp has not only created work for her own company, but for most American dance companies, such as American Ballet Theatre and the Martha Graham Dance Company, as well as the Paris Opera Ballet, the Royal Ballet and Australian Ballet. In her time as a modern dance choreographer she has earned herself two Emmy Awards, and the 2002 Broadway dance musical Movin' Out won her a Tony Award. In 2008 she was awarded the Jerome Robbins Prize and the Kennedy Centre Honour, and she has received 19 honorary doctorates.
Tharp formed her company at 23 years old, looking for dancers with high levels of technique and strong personalities, but who are also open-minded and willing to forget that they know anything else about dance. The Italian tour for the company saw eight dancers perform, presenting the preview of Beethoven Opus 130, as well as Country Dances and Brahms Paganini.
The new creation, Beethoven Opus 130, received its official premiere at the Saratoga Performing Arts Centre. The piece was originally kept completely secret, apart from some workshop shots taken during the Catskill Mountain Foundation residency in April. Country Dances premiered at the Edinburgh Festival in 1976, inspired by American music and traditions. Brahms Paganini, from 1980, is set to Brahms's Variations on a Theme by Paganini.