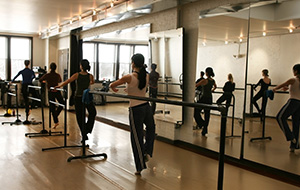 There are many dance-inspired fitness methods on the market today, from fitness trainers who used to be dancers to those who use dance as a means to remaining happy and healthy, whilst not having a dance background. Aerobics and Zumba classes still have their place, but these are now two of many different options for class participants. Workouts of these kind offer a combination of dance, fitness and wellbeing, and there is truly something to suit everyone, be it at sports centres or the local dance studio.
Today dance-inspired fitness – such as ballet-inspired workouts, dance cardio and toning barre classes – use dancers' graceful and athletic bodies as a start point, aiming to emulate the idea of dance and being a dancer, rather than aspiring to lose weight or tone up. Strength, lengthening and athleticism can be just two focuses in classes of this kind, aiding existing fitness regimes for both non-dancers and dancers alike. Equally, classes such as HIIT (high intensity interval training), yoga and Zumba can be offered at dance studios that may have previously only offered technique classes.
Barre-style workouts can be used for physical as well as mental fitness benefits. They usually use the body's own weight to gain lean muscle and a balanced mindset, where the focus is purely on the own body. Many may combine barre, Pilates and dance, and may even incorporate hand weights to aid the body's training. Mixing up the body's fitness routine – whether it is from a dance or fitness perspective – continues to challenge the body, and help participants find both energy and strength in the change in fitness activity.
Dance and fitness of course go hand in hand, so trying something different can renew your passion for the reason behind the workout, offering a range of benefits for both body and mind.