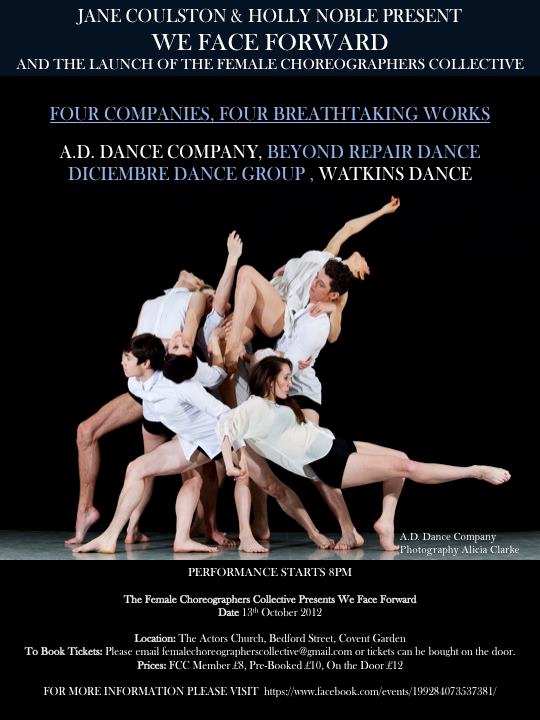 Holly Noble and Jane Coulston, both professional dancers and choreographers, recently asked the question: where are all the female choreographers? In recent years it has been a recurring topic of discussion in modern dance as an industry that is predominately female and as an art form particularly pioneered by women, such as Isadora Duncan, Doris Humphrey, Martha Graham and Twyla Tharp, let alone the rest of the dance sector. In a bid to answer this, be it choreographers of pointe shoe and tutu, leotard and leggings or any other dancewear background, the pair have launched the Female Choreographers' Collective, an organisation that is looking to reverse the apparent skewing of opportunities toward male dance makers.
Noble and Coulston are making a stand in response to the dwindling number of female choreographers receiving regular funding or support in the same league as their male counterparts through the FCC, with the sole purpose and mission of the collective to support, encourage and spearhead work created by female choreographers across the UK. They are aiming to contact all female choreographers in the UK and organise forums, networking opportunities and platforms to showcase the abundance of female talent currently creating work.
In addition to their championing of the female dance artist population, the pair are also committed to investigating the reasons behind the inequality, calling on all female choreographers that are interested in highlighting this issue to share their experiences being a female choreographer in the dance industry today. The issue has been discussed over the last few years, with Dance Umbrella hosting a forum on the topic in 2009. In this heated debate everything from childcare to sexualisation and ego of the male choreographer were thrown into the arena. Whilst Noble and Coulston currently only have theories, they hope the FCC will provide clear answers on the shift with the support of female choreographers in order to provide female choreographers with the opportunity to stand alongside their male peers and gain higher profile choreographic commissions and opportunities.
The FCC will support female choreographers of all genres, whether they are just starting out on their creative journey or are fully established choreographers, having presenting an FCC women's choreographic platform on 13 October 2012 to offer a platform for female choreographers and to celebrate the FCC launch. The pair are aiming to run a women's platform regularly, for example three times a year or more.
Holly Noble
Holly trained at The Arts Educational School in Tring and at Laban Conservatoire in Greenwich specialising in Ballet and Contemporary. She has had a diverse career in Theatre, TV and Film working as a freelance dancer, choreographer, actor and teacher. As a dancer she has worked with various choreographers such as Ashley Wallen, Lynne Page and Michael Voss.
Holly is founder and Artistic Director of A.D. Dance Company, a neoclassical touring company of eight dancers. Alongside this Holly Directs and Produces 'Platform A.D'.
Holly has most recently joined English National Ballet as an Associate Dance Artist and has been appointed as Artistic Director for English National Ballet Youth Company.
Jane Coulston
Jane Coulston in is the Director Choreographer of Beyond Repair Dance, a contemporary dance company.
After finishing her training at Laban Jane worked internationally as a dancer and choreographer, working and studying further in New York. Working with the New Amsterdam Dance Theatre, Stagedoor Theatre Arts and various dance theatre companies in the USA. This work included off Broadway productions and work with the American academy of film London.