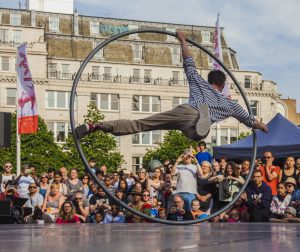 DanceXchange, Birmingham Hippodrome and Birmingham Royal Ballet are joining forces to put Birmingham on the dance map this summer with an exhilarating month of dance festivals throughout June 2020. B-SIDE, BIDF and Curated by Carlos run from 29 May – 27 June featuring a range of dance styles from hip-hop to contemporary to classical ballet.
B-SIDE Hip-Hop Festival now in its fifth year, has grown to become the UK's biggest free hip-hop festival, and one of the largest in Europe. This year's event between 29 May – 7 June features dance battles, live music, graffiti, theatre and spoken word, street sports, films, talks and workshops.
Birmingham International Dance Festival (BIDF 2020) returns from 5 – 21 June. BIDF 2020 will deliver a rich and diverse programme across Outdoor, Theatre, Site-Specific, and Participation, plus events for dance industry professionals. Expect fantastic dance in the city's theatres and a takeover of Birmingham's streets and squares, with show-stopping free performances and opportunities to get dancing.
Curated by Carlos, from 19 – 27 June will see Carlos Acosta will bring together dancers, visual artists, writers and thinkers in a series of interactive including the Birmingham premiere of Acosta's huge production of Don Quixote, only ever seen in the UK before at the Royal Opera House. It culminates in a Family Day packed full of free activities taking over Birmingham Hippodrome
on Saturday 27 June.
BIDF, B-SIDE Hip-Hop Festival and Curated by Carlos are expected to attract audiences from far and wide to see performers from across the globe. Over the last decade BIDF and, over the last five years, B-SIDE have engaged with thousands of people from all walks of life, as audiences and participants, and have attracted visitors to the city to enjoy great dance experiences. The partners aim to continue that work with the addition of BRB's Curated by Carlos working collaboratively to maximise the impact of each festival.