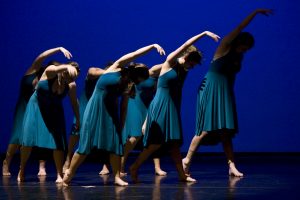 Northern School of Contemporary Dance has announces Sharon Watson as its new Chief Executive and Principal. Watson, who is the longest standing Artistic Director of Leeds-based Phoenix Dance Theatre, will begin her tenure as CEO and Principal of NSCD in May 2020.
Watson becomes NSCD's fourth Principal in the institution's 35-year history, following in the footsteps of Janet Smith MBE, Gurmit Hukam and founding Principal Nadine Senior MBE. She grew up in Leeds and was one of Nadine Senior's pupils at Harehills Middle School before going on to study at London Contemporary Dance School in 1983. On leaving the school she was one of the first female dancers to join all-male Phoenix Dance Theatre, and in 1996 she attended NSCD to complete a Bachelor of Performing Arts (Dance) degree. Watson returned to Phoenix Dance Theatre in 2009 to take up the role of Artistic Director.
In recent years Sharon has been recognised with a variety of awards and accolades, including the Sue Ryder 'Yorkshire Women of Achievement in Business Award', and the First English Woman's Award for Arts and Culture. NSCD presented Sharon with an Honorary Fellowship in 2018, and in 2019 she received an Honorary Doctorate from Leeds Beckett University for her contribution to the Arts. In October 2019 she was named the Arts and Media Senior Leader of the Year by the Black British Business Awards.
Based in Chapeltown, Leeds, Northern School of Contemporary Dance is a leading centre for dance education in the UK. NSCD is currently the only institution to offer conservatoire-level professional dance training in the North of England. The School's programmes at Undergraduate and Postgraduate levels nurture versatile and independent dance artists with highly tuned technical, creative and performance skills, ready for entry into the profession. NSCD recruits the most talented students, regardless of background, to shape the future of the art form.