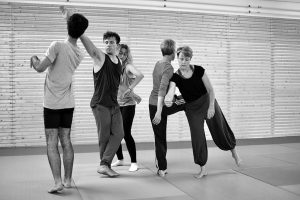 The UK's original graduate dance company – Transitions Dance Company – presents an eclectic programme of new work from internationally acclaimed choreographers H2DANCE, Cameron McMillan and Elisa Pagani. The UK tour commenced at Dundee's The Space in February before taking on Cardiff's Dance House, Trafford's Waterside arts venue, Ilfracombe's Landmark Theatre, Buxton Opera House, Perth Theatre, Chichester University, Worcester's Swan Theatre and London's Laban Theatre in June.
Award-winning Scandinavian choreographers H2DANCE explore themes of group behaviour, conformity, power balance and manipulation in the new commission for Transitions. The choreographers are known for their interdisciplinary approach combining movement, voice, and video to create dance that probes serious topics with irreverent humour.
London-based choreographer, dance artist and movement director Cameron McMillan has created a new work for the company. Cameron is interested in exploring the communication of the human experience and is inspired by movement's potential to shape the way both the still and moving image is created.
Italian choreographer and founder of contemporary dance company DNA, Elisa Pagani, is known for choreography that marries physicality, instinct and strength to explore the complexity of human relationships in their most primal state. Her new work completes the programme of new commissions which is directed by David Waring.
Transitions Dance Company offers audiences a chance to see the dance talent of the future. Showcasing elite, up-and-coming international dance talent it commissions world renowned choreographers to create new works on the nine company dancers each year. The dancers selected for Transitions combine their touring schedule with the completion of their MA in Dance Performance at Trinity Laban.
Founded in 1982 by Bonnie Bird, Transitions Dance Company – alumni include Sir Matthew Bourne, Luca Silvestrini and Emma Gladstone – was the first of its kind to provide a gateway between dance training and professional performance. Its subsequent success over the last 38 years has inspired the creation of numerous graduate dance companies across the country.