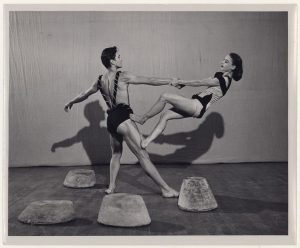 The Cohan Collective, an open residency programme for choreographers and composers, is calling for applications for 2020. Four choreographers, four composers, four musicians and twelve dancers, with the ability to work in a diverse range of music and dance styles, will be selected to take part in a two-week residency in Birmingham, hosted by Birmingham Royal Ballet and DanceXchange, beginning on 6 July. The deadline for applications is 30 March, and interviews and auditions will take place in April.
The Cohan Collective was founded in 2015 by choreographers Sir Robert Cohan and Yolande Yorke-Edgell, and composer Eleanor Alberga, to develop artists' creative skills, investigate collaborative relationships, and expand the reach of Cohan's artistic legacy. The 2020 course will be run by the co-directors of the programme, Sir Robert Cohan, composer Philip Feeney and Yolande Yorke-Edgell with mentorship by choreographer Kim Brandstrup and composer Kenneth Hesketh.
The Cohan Collective is a three-year residency in three phases. The first is a two-week residency where composers, choreographers and dancers with early-career musicians (alumni of Birmingham Contemporary Music Group and Royal Birmingham Conservatoire's NEXT course) come together to collaborate, develop their practice and investigate the process of making music and dance. The second phase is a development week where artists and composers are invited to return to the programme to focus on individual collaborations. The third and final phase brings together the learning of the first two phases where two of the choreographer/composer teams will complete, produce and present a work. The artists are mentored and given ongoing support throughout their creative journeys for the duration of the three-year programme.
From 17 August, The Cohan Collective relocates to New York in a cultural exchange with the Martha Graham Dance Company which will host a two-week residency. Sir Robert Cohan, Yolande Yorke-Edgell and Kim Brandstrup will work with New York-based dancers and choreographers.
Sir Robert Cohan's 95th birthday celebrations start on 11 May, with a preview of his new work for Yorke Dance Project as part of an Insights evening at the Linbury Theatre, Royal Opera House.