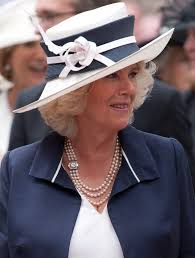 The Duchess of Cornwall will visit Elmhurst Ballet School, the vocational school in association with Birmingham Royal Ballet, on 22 January. Her Royal Highness has been Patron of Elmhurst since 2006 and this will be her fourth visit to the Edgbaston based school.
Her Royal Highness will observe a Year 7 ballet class, watch a performance in the school's studio theatre and take a short tour of Elmhurst's state-of-the-art Health and Wellbeing Centre. The Health and Wellbeing Centre, in development the last time Her Royal Highness visited the school in 2014, was officially opened in 2016 by Carlos Acosta, international ballet star and new Director of Birmingham Royal Ballet. The centre offers a wide range of services and facilities, including a purpose built physiotherapy and exercise suite. The centre includes specialists in paediatric and emergency nursing, dance injury prevention and management support, performance enhancement coaching, counselling services, and access to The Young Performers' Health Trust Scheme, a bespoke healthcare provision for elite dance students, pioneered by the school.
Elmhurst Ballet School will celebrate its 100th anniversary in 2023. It is a world-renowned centre of excellence in association with Birmingham Royal Ballet and prepares talented young dancers aged between 11 and 19 to become the thinking dance professionals of the future. The school nurtures individuality through a holistic approach to training, education and health, which helps students to become independent, collaborative and versatile artists, ready to take their professional places on the world stage.
Elmhurst believes that talent is classless and its exceptional training opportunities should be available to young dancers regardless of their financial, social or cultural backgrounds. Whilst Elmhurst is an independent school, typically some 80% of students benefit from Government support to train at the school.
Elmhurst's Young Dancers Programme includes 280 young people, from Year 4 upwards who are engaged in weekend lessons in Birmingham, Manchester, Sunderland and Plymouth. In addition, Elmhurst now works with approximately 500 young people in local Birmingham state schools each year through dance workshops and lecture demonstrations to widen the reach of ballet as a leisure activity or potential profession.