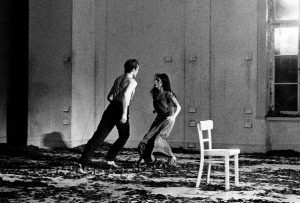 Staged for the first time in over 29 years, and receiving its UK premiere, is Pina Bausch's early monumental masterpiece Bluebeard. Following eight performances at Opera House Wuppertal in January and February 2020, the acclaimed production comes to Sadler's Wells, London from Wednesday 12 – Saturday 15 February.
The work premiered in 1977 and was presented in 12 cities until the mid-90s, including Cologne, Los Angeles, Venice, Paris and Tokyo.
In Bartók's Bluebeard, the character Judith arrives at Duke Bluebeard's castle where she is given a set of keys to open seven doors. Behind each door she discovers a number of things highlighting the lack of understanding between humans. The piece counts among Bausch's most radical and uncompromising works, breaking with any form of conventional dance aesthetic. A brave experiment combining elements from different genres, it is a disturbing but moving balancing act across various forms of love, tenderness and violence.
43 years after its world premiere, the restaging is led by rehearsal directors Helena Pikon and Barbara Kaufmann, as well as original cast members Jan Minarik and Beatrice Libonati.
Pina Bausch is regarded as many as having written dance history. She not only founded the world-famous company in Wuppertal, she shaped a whole genre – dance theatre – and influenced countless other artists, choreographers and directors worldwide who credit her and her work. When she arrived in Wuppertal in 1973, the young dancer and choreographer took over the ballet company at the Wuppertaler Bühnen (the combined municipal theatres) and soon renamed it the Tanztheater Wuppertal ('Wuppertal dance theatre'), because that was her goal: to unite dance and theatre.
Pina Bausch made 46 works, and many are still in the company's repertoire, ten years after its founder's death; the company maintains and preserves this heritage with great devotion, care and energy.