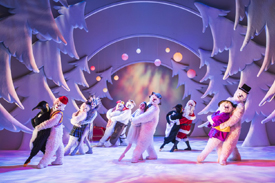 Raymond Briggs' festive favourite, The Snowman, has whisked generations of children off to a wintery wonderland for a festive adventure year on year. Now the Birmingham Repertory Theatre's magical stage show journeys back to London's The Peacock to charm both young and old for its 22nd consecutive year, from 21 November 2019 – 5 January 2020. Based on the much-loved film and book, the enchanting stage adaptation features exquisite dancing, magic and live music, including the unforgettable classic Walking in the Air.
The family favourite follows the story of a young boy's adventures when his snowman comes to life on Christmas Eve. Featuring a dazzling array of colourful characters including dancing penguins, a beautiful snow princess, her wicked beau Jack Frost and of course, Father Christmas, The Snowman is the perfect Christmas treat for the family and a wonderful introduction to dance for the very young.
Inspired by the film directed by Dianne Jackson and produced by John Coates, The Snowman has become a must-do Christmas activity, and has been seen by audiences of over half a million at The Peacock. It was created and illustrated by Raymond Briggs as a picture book, narrated entirely through hand-drawn illustrations and was first published in 1978. Now one of the world's most popular picture books, The Snowman has sold in excess of 5.5 million copies globally and has been translated into 21 languages.
It is suitable for all ages, and is visiting The Peacock as part of a UK and international Tour.
7 November – 10 November
Manchester Opera House
13 November – 17 November
Theatre Royal Glasgow
21 November – 5 January
Peacock Theatre, London
29 November – 1 December
Lyric Theatre, Academy for Performing Arts, Hong Kong
12 – 15 December
Esplanade Theatre, Singapore
15 – 19 January
Milton Keynes Theatre