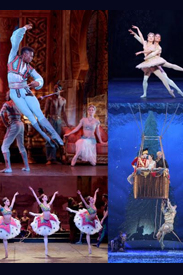 This winter at the London Coliseum, English National Ballet presents Nutcracker (11 December – 5 January) and Le Corsaire (8 –14 January) alongside three special gala performances celebrating English National Ballet's 70th Anniversary (17 – 18 January).
Continuing its Christmas tradition of presenting a Nutcracker production each year since 1950, English National Ballet's Nutcracker returns this festive season. Over 100 dancers and musicians bring the popular Tchaikovsky score to life, featuring the Dance of the Sugar Plum Fairy and Waltz of the Flowers, performed live by English National Ballet Philharmonic. Since its premiere in 2010, this festive family favourite has been seen by over 660,000 people, and continues to attract new audiences, with 70% of 2018's audience members first time attenders at the London Coliseum.
Autumn 2019 also sees Le Corsaire return to the UK six years after its premiere in 2013, having delighted audiences around the world with tours including Japan, Singapore, Paris and Spain. The only UK company to perform the complete work, English National Ballet's production was staged by Anna-Marie Holmes and features sets by Hollywood designer Bob Ringwood, with a sweeping score performed live by English National Ballet Philharmonic.
Alongside these performances, English National Ballet will host a range of workshops and events throughout the Coliseum season aimed to provide a gateway into the world of ballet, and the productions the Company is touring this season. Activities include dance workshops for all ages and live drawing.
The gala performances in January 2020 will celebrate the dancers, choreographers, artists, musicians, artisans, technicians and audience members who, over the Company's 70 years, have been a part of the English National Ballet family. The Company and English National Ballet School will come together for this milestone celebration which sees a programme of some of the most important and ground-breaking works that make up English National Ballet's diverse repertoire.