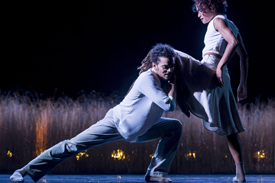 Sadler's Wells International Associate Company Acosta Danza returns to the UK this month for a national tour of its latest programme Evolution, co-produced by Sadler's Wells and Valid Productions. Following the UK premiere at Norwich Theatre Royal, Evolution tours to the Festival Theatre in Edinburgh, Birmingham Hippodrome and Sadler's Wells, from 18 – 23 November.
Under Carlos Acosta's artistic directorship, Acosta Danza was set up as a tribute to the vibrancy of Cuban culture and features a mixture of the finest ballet and contemporary dancers Cuba has to offer. Following Debut, the company's first programme which came to the UK in 2017, the eclectic Cuban company presents new and existing works in its second UK programme.
Acosta makes a guest appearance performing in the iconic Rooster by Christopher Bruce, to music by the Rolling Stones. New works come from visionary Swedish choreographer Pontus Lidberg with Paysage, Soudain, la nuit; breakthrough Cuban choreographer Raúl Reinoso with Satori; and Sadler's Wells Associate Artist Sidi Larbi Cherkaoui's Faun, inspired by Vaslav Nijinsky's L'après-midi d'un faune, and set to Debussy's original score with additional music from Sadler's Wells Associate Artist, Nitin Sawhney.
Acosta Danza was created by Carlos Acosta in 2015 to harness and develop the young creative dance talent emerging from Cuba. The ethos of the company is to produce dancers that can combine both classical and contemporary genres effortlessly, imbibed with Cuba's rich musical and dance influences, to create repertoire that is exciting and stimulating and that pushes conventional boundaries.
The company has already been fortunate enough to work with some of the world's leading choreographers. It also encourages the emergence and development of new choreography from among its own members, to great success. Autumn 2017 saw the company make its debut in the UK at Sadler's Wells, before embarking on a UK-wide tour produced by Valid Productions and Sadler's Wells, with co-production support from The Movement and Festpielhaus St Pölten.