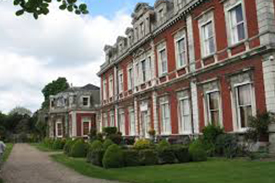 Tring Park School for the Performing Arts has officially opened its new £8 million boarding block, consisting of three floors and a lower ground floor, which contains a state-of-the art boarding house for 70 pupils, six academic and vocational teaching spaces, a theatre workshop, two staff apartments and other pupil facilities.
The first boarders moved in earlier this month, and included a mixture of younger pupils and sixth formers, all of them girls. However, the unique modular design of the new building means that the building can be "locked off" vertically and horizontally depending upon boarding requirements on any given year and depending on the numbers of boys and girls.
The new building provides the most spacious and modern boarding facilities and gives the school the opportunity to refurbish the existing onsite boarding facilities to a similar standard. It also provides much-needed additional teaching spaces. They are designed to be transparent and layered to connect with and retain the balance between historic buildings, the structure, and the landscape setting of open courtyards and garden spaces.
Tring Park School is both a day and boarding school for students aged eight to 19. Alongside a broad academic curriculum, the school offers courses in dance, acting and musical theatre to learners up to the age of 16. Sixth Form students are able to study Acting, Musical Theatre and Commercial Music up to age 18 while dancers can take a three-year course, graduating at age 19.
Tring Park is one of the UK's top performing arts schools – the majority of pupils forge successful careers in the performing arts. Tring Park provides a unique community for talented young people, regardless of means or background, who have both passion and talent for dance, drama, musical theatre or commercial music.