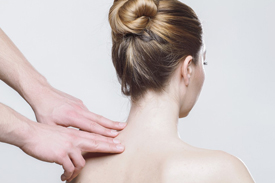 For many dancers, physiotherapy is not unfamiliar. For aches, pains and for injury recovery, a physiotherapist tailors different exercises for each individual client in order to bring them back to full dancing health. Ahead of seeing a physio, take care of your body and respond to what it is trying to tell you. Whilst dancers know their bodies well, often the mantras 'the show must go on', and 'no pain, no gain' take over, and dancers push through pain which may be detrimental in the long-term.
Listen to your body's warning signs, and if necessary see a physio. The practitioner can determine whether you have experienced physical damage that first requires medical treatment. If the problem is not medical the physio will use massage and other techniques to release the tension of the body and put the problem right. Depending on the dancer's needs and the extent of the problem, the physio will prescribe different exercises to do daily to build up strength and realignment in that area of the body in order for it to recover.
The legs are often the parts of the body that take the most strain, despite the fact dance is a full body activity. The legs power the body and must be taken care of in order to prolong their performance. Dancers must be acutely aware of the body and any minor changes, particularly in the legs. Problems such as tight calves or iliotibial band can be detrimental to performance, but can easily be rectified through visiting a physio. If the problem is a little more complex, an osteopath may be required to enable the dancer to recover.
Prevention is, of course, better than cure, so build up your body's strength and resistance to problems before they occur.