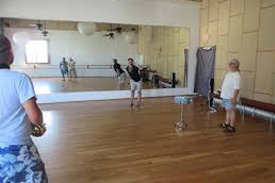 Whilst dance is widely renowned as beneficial to all ages and walks of life, a study recently found the benefits of dance for older people have not been fully appreciated. The study, by Aesop and People Dancing, found that dance can be an effective alternative to health programmes, acting not just as exercise for physical benefits, but also as a social, cognitive and emotionally positive activity.
Also highlighted through the study was the fact that those leading dance activities for older learners needed support in order to relay the benefits to non-dance sectors. The research found that older people's dance activities are most commonly described as 'creative' and have an emphasis on the social and community aspects of groups, with the physical benefits sidelined and under-acknowledged, despite the fact the classes encourage long-term engagement. The benefits of dance can therefore be used by others to encourage long-term participation in exercise.
To come to their conclusions, Aesop and People Dancing conducted a survey of dance providers on the 'Dance to Health' programme as a "snapshot of current practice", in order to gather views about the conditions required for success in healthcare via dance. Dance to Health was created in response to the number of falls amongst older people, and a desire to prove that major national health problems can have artistic solutions that are more effective and cheaper than current health services. It has also become evident that the completion rate for healthcare exercise courses is 40%, whereas Dance to Health achieved 73%, including a range of health, artistic and social benefits.
It is hoped that support will become available for people to communicate the value of dance to non-dance specific partners, such as health professionals. This area can then be built on and utilised for the benefit of the wider older community.