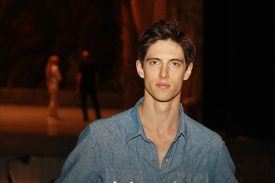 British dancer Xander Parish is now a principal of the Mariinsky Ballet, promoted on the stage of the Royal Opera House which he left many years ago. This followed his performance as Siegfried in Swan Lake as part of the Mariinsky's three week London run of five different programmes. The news marked Parish as the first British dancer to be promoted to this rank at the Mariinsky, joining Kimin Kim of South Korea as the company's only principal dancers from outside the former Soviet Union.
Xander joined the Mariinsky as a Coryphée in 2010 after dancing with the Royal Ballet for five years. He was spotted by the Mariinsky's Yuri Fateyev, coaching at the Royal Opera House, who thought he could see a future star and invited him to St Petersburg. Here Xander was able to train hard and build up his strength in order to rise through the ranks and succeed. The irony was that Xander did not unpack his suitcase for three weeks, thinking he might be on a plane home within days.
Xander's gamble in leaving the Royal's corps de ballet certainly paid off, with his skill, talent and ambition developing dramatically. It seems only fitting that Xander was dancing on home soil before the announcement of his promotion was made on stage in front of his peers and audience.
It has been said that the Mariinsky Ballet has an understanding built into its history that in order to turn a young dancer into a leading dancer, the company has to give the person in question stage experience and a lot of coaching ahead of their emerging artistry coming to light. Xander was identified as having the potential to succeed and rise through the Russian company's ranks, and rise he did.