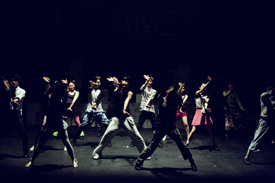 There is no doubt that many international dance companies tour the UK as a result of the work of Dance Consortium. However it is also venues, young dancers and many others that also also benefit from its work, regardless of the fact Dance Consortium was established with the specific aim of touring international contemporary dance around the UK.
The organisation has 17 members which are all large-scale theatres. Since its formation in 2000 it has presented 40 tours by 22 different dance companies to the UK, companies which have travelled across the globe and performed to over 600,000 people. Its members contribute to just over half its income through membership and performance fees, and member venues cover all technical, marketing and overhead costs.
Subsidy is also required however. Dance Consortium was funded through Arts Council England Grants for the Arts until 2008, and has since received £489,000 per annum as a National Portfolio Organisation to support the costs of the tours and make a contribution towards overheads. Company fees can range from £12,000 to £25,000 per performance, and other costs include flights, accommodation and local transportation.
Each tour lasts between five and six weeks, visiting two venues a week with two performances in each venue. An education programme accompanies each venue visit with post-show Q&As, open rehearsals, workshops with local schools, colleges and dance groups (from young dance students to the over 55s) and opportunities to meet international choreographers, dancers and artistic directors. Dance artists can then share what they have learned with dance students in the UK, for example, passing on a legacy of inspiration to the next generation of performing artists. The benefits extend far beyond cost-sharing and audience development however, also enabling each of the member theatres to build its own capacity and expertise, as well as benefiting the UK dance sector.