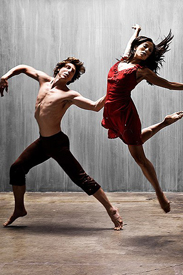 Richard Alston, seen by many as the UK's most musical choreographer, has chosen the music of Benjamin Britten, the composer he has choreographed to more than any other, to create the final work for his company. Shine On will have its UK premiere at Snape Maltings, the concert hall linked with Britten, this autumn before touring and running at Sadler's Wells, London next spring.
Alston is choreographing to On This Island, Britten's 1937 song cycle, his first for voice and piano. It is set to five poems from WH Auden's collection of the same name, two of which were dedicated to Britten himself. It will be performed live by soprano Katherine McIndoe and pianist Jason Ridgway in Aldeburgh and London.
Aldeburgh also sees the UK premiere of Voices and Light Footsteps (a name Alston liked so much he recycled it from a piece he made for Rambert in 1984). The piece is inspired by the expressive vocal madrigals and instrumental sinfonias of Claudio Monteverdi. The evening is completed by two works, Martin Lawrance's Detour and Alston's Brahms Hungarian.
Sadler's Wells, in March 2020, will be Richard Alston Dance Company's final ever performances. Shine On will be performed alongside Voice and Light Footsteps, Mazur and a new work by Martin Lawrance, A Far Cry. Shine On is the ninth work Alston has created to Britten the scores.
Richard Alston Dance Company launched in November 1994 and is one of the UK's leading choreographer-led companies. Alston has created over 45 dance-works and is also Artistic Director of The Place, London's leading centre for contemporary dance, where the company is based. Music plays a vital part in the company's identity and since its inception, Alston has made work to the music of a diverse range of composers.