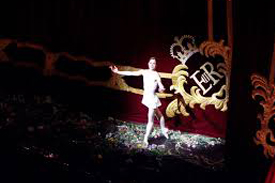 The Royal Ballet School has honoured former student Dame Darcey Bussell DBE with the title Artist Laureate in recognition of her contribution to the School and to ballet. The new title has been created especially for Darcey to celebrate her exceptional career and achievements as an alumna of the School. It also marks the impact she has made in bringing ballet to ever-broader audiences through her work, as well as inspiring thousands of dancers through her teaching and advocacy work.
Darcey began her professional training at the Arts Educational School, a specialist dance and musical theatre school in London. At 13, she moved to continue her studies at The Royal Ballet School, both at White Lodge and the Upper School, before graduating into Sadler's Wells Royal Ballet in 1987.
While she was still at school, the choreographer Kenneth MacMillan had noticed Darcey's talent, and in 1988 he gave her the leading role in his ballet The Prince of the Pagodas, which led to her moving from Sadler's Wells to join The Royal Ballet. Immediately after the Pagodas première in December 1989, Darcey was promoted to the rank of Principal, becoming the youngest Principal of The Royal Ballet at just 20 years of age.
In 2006 she announced her retirement as a Principal dancer at The Royal Ballet, although she stayed with the Company as 'Principal Guest Artist'. She retired from ballet on 8 June 2007 with a performance of MacMillan's Song of the Earth. At the end of the piece she received a standing ovation lasting more than eight minutes. It was also broadcast live on BBC Two.
Despite retiring from the professional stage, Darcey remains involved in the dance world. She is a recipient of the Carl Alan Award for contributions to dance and has recently stepped down from her role as judge on the BBC's Strictly Come Dancing. Darcey was awarded an OBE in 1995, a CBE in 2006, and a DBE in 2018.