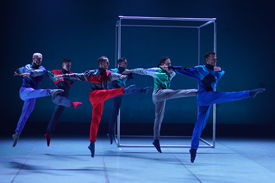 This summer, BalletBoyz made its West End and Edinburgh Festival Fringe debut with its critically acclaimed Them/Us, an innovative double bill and a brand-new collaboration, from the company's dancers and the Olivier Award-winning choreographer Christopher Wheeldon. A co-production with Sadler's Wells, Them/Us played at Sadler's Wells in March as part of a UK tour. The production will tour to Reading, Milton Keynes, Shrewsbury, Cambridge, Brighton and Deptford.
BalletBoyz is known worldwide for its ground-breaking live performances, films and TV appearances. The new productions are set to original scores by world-class composers, and ask where we see ourselves in relation to the "other". Them/Us shows off the versatility of the company, featuring choreography from the talented dancers alongside work by Christopher Wheeldon.
A first in the history of BalletBoyz, Them is the work of the company's own in-house talent, and is set to a score by emerging composer Charlotte Harding. Us is inspired by the critically acclaimed Christopher Wheeldon duet featured in the company's last show, Fourteen Days. With an extended score by cult singer/songwriter Keaton Henson, Christopher Wheeldon develops this new work which explores the possibilities of before, during and after.
The current BalletBoyz Company includes Joseph Barton, Benjamin Knapper, Harry Price, Liam Riddick, Matthew Sandiford and Bradley Waller. The dancers have a wealth of dance and performance experience between them, with some dancers acting as veterans within the company and others rather fresh-faced. Either way, the tour looks set for great success as it travels the country.