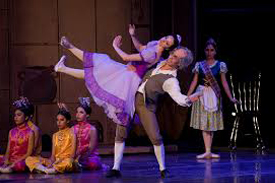 Michaela DePrince, a soloist rising to fame with Dutch National Ballet, is to star in a new film of the ballet Coppelia. DePrince shot to international attention as one of the subjects of First Position, a documentary following the Youth America Grand Prix, gaining recognition and popularity. A black dancer born in war-torn Sierra Leone and adopted and raised in America, she has also written a best-selling memoir, Hope in a Ballet Shoe. Back in 2016, she danced as a guest artist in English National Ballet's Giselle.
She dances the leading role alongside Daniel Camargo for the film, a principal dancer with Dutch National Ballet. The cast also includes Igone de Jongh, another principal with Dutch National Ballet, the former Bolshoi Ballet and Royal Ballet star Irek Mukhamedov, the British ballet star Darcey Bussell, and Dutch dancer and actor Jan Kooijman. The choreographer is Ted Brandsen, artistic director of Dutch National Ballet.
The film is a a modern version of the classical ballet and combines animation with ballet, and is expected to be screened at the end of 2020. The film is hoped to encourage more people to watch ballet, made psychologically more accessible by the screening of the film in cinemas.
Audiences will meet lovers Swanilda and Franz, and Dr Coppelius, an eccentric toy maker who dreams of bringing his mechanical toys to life. Dr Coppelius has a daughter who is not what she seems and Swanilda must rescue Franz from the magician's plans. Bursting with sorcery and masquerade, romance and high jinks, and music audiences know and love, this ballet turned film is perfect for all the family.