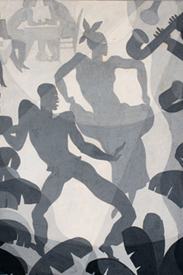 Opening on 4 October, Into the Night: Cabarets and Clubs in Modern Art at London's Barbican Centre explores the social and artistic role of cabarets and nightclubs around the world. Spanning the 1880s to the 1960s, the exhibition presents a dynamic history of artistic production. The first major show staged on this theme, it features both famed and little-known sites of the avant-garde – these creative spaces were places of radical thinking, where artists could exchange ideas and create new forms of artistic expression.
Into the Night offers an alternative history of modern art that highlights the spirit of experimentation and collaboration between artists, performers, designers, musicians and writers. Focusing on locations from New York to London, Paris, Mexico City, Berlin and Vienna, Into the Night brings together over 350 works rarely seen in the UK, including paintings, drawings, prints, photographs, films and archival material. The exhibition also features full-scale recreations.
It casts a spotlight on some of the most electrifying cabarets and clubs of the modern era. Whether a creative haven, stage or liberal hangout, all were magnets for artists, designers and performers to come together, collaborate and express themselves freely. Capturing the essence of these global places of experimentation and cross-disciplinarity, immersive 1:1 scale interiors will take the visitor on a captivating journey of discovery.
Into the Night begins in Paris, on the eve of the 20th century, with the theatrical shadow plays of the Chat Noir in the 1880s, brought to life through original silhouettes and works that decorated the interior of the cabaret. The serpentine dances of Loïe Fuller staged at the Folies Bergère in the 1890s were trail-blazing experiments in costume, light and movement, shown here, and Henri de Toulouse-Lautrec captured her performances in his series of hand-coloured lithographs, brought together for the exhibition of experimental cabaret productions. The exhibition works its way through the century, telling the complete story of how these performances, cabarets and nightclubs developed.