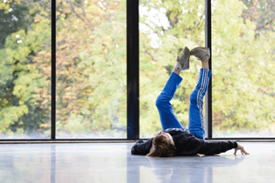 Siobhan Davies Dance and BALTIC Centre for Contemporary Art have announced the CONTINUOUS Network with UK-wide partners and funding from Arts Council England, an expansion of their four-year partnership. The CONTINUOUS Network will incorporate institutions around the country, including galleries Bluecoat (Liverpool), Nottingham Contemporary, The Tetley (Leeds), Tramway (Glasgow) and Turner Contemporary (Margate), and dance organisations Dance4 (Nottingham) and Yorkshire Dance (Leeds). The partnership will continue until 2022 and is set to include four additional galleries.
CONTINUOUS will publicly launch in October 2019 with its first commission by Lucy Suggate. The Spirit Sessions: Where there is movement there is change will premiere at BALTIC and tour nationally to a further three galleries. The CONTINUOUS network will give audiences all over the country access to the best in experimental independent dance and choreography from around the UK. Dance will animate museums, galleries and other spaces – spaces where today's choreographers want to make and present work and where audiences are curious to encounter the new and unexpected.
This ambitious collaboration initiates a change in the commissioning, creation and presentation of experimental contemporary dance in galleries to grow audiences for dance. With a spirit of collaboration and learning, the network will offer financial and practical support for presentations of dance works, initiate co-commissions of new dance works among network partners, broker relationships between dance artists and curators, and facilitate audience development through participatory engagement activities. It also aims to improve the profile of experimental contemporary dance in the UK among national and international audiences. By 2022 the network will present six new dance works for galleries co-commissioned among network partners and will tour eight existing dance works by the UK's most innovative dance makers.
The CONTINUOUS Network marks a significant expansion for Siobhan Davies Dance's programme to support current and future generations of dance artists. It highlights the values of its founder Siobhan Davies – collaboration, investigation and working across disciplines – in the broader dance sector, and it extends the company's practice of more than a decade making and performing dance in galleries across the UK and abroad.