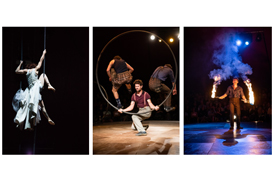 From the award-winning creative team behind the company's hit shows ImMortal, tabu, and Bianco, NoFit State Circus's LEXICON is a stunning production which brings together world class circus performers and musicians in a daring and mischievous take on contemporary circus. It returns to the Roundhouse for a strictly limited season from 3–18 January 2020.
NoFit State's LEXICON features the latest innovations and techniques in the ever-evolving world of contemporary circus, all placed in the nostalgic setting of a traditional ring. With a live band and an international cast from Brecon to Bologna, the production is a trademark anarchic mix of perilous and playful circus full of wild abandon. Audiences can expect everything from flying desks and daredevil bicycles to heart-stopping aerial work.
NoFit State is the UK's leading large-scale contemporary circus company, producing professional touring productions and a wide variety of community, training, and education projects for people of all ages. Over the last 10 years NoFit State's critically acclaimed and award winning touring productions have visited 19 different countries and played to audiences of over 650,000. LEXICON brings together performers from across Europe and includes a Flying Trapeze artist, High Wire walker, Fire Juggler, Acrobats and Pranksters. The show features artists who have been performing with NoFit State for years, alongside a host of new members to the company.
NoFit State last performed at the Roundhouse in 2012/13 with Bianco, which returned to London in 2017 at the Southbank Centre. The Roundhouse has a strong tradition of presenting circus, and championing the contemporary circus as an artform and creative pathway for young talent. The production will be accompanied by a wrap-around programme of workshops and events for young people aged 11 – 25.
Created in 1986 by five friends, NoFit State is a community bound by a common passion and a collective journey. NoFit State work, travel, and live together, they put their lives in each other's hands daily and it is the trust, this bond and this togetherness that gives their work its unique heart, soul and spirit.