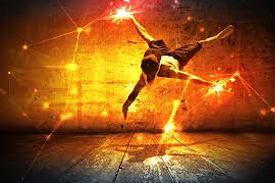 Born To Manifest is a new hip hop contemporary dance work exploring the experiences of young black British men, glimpsing into the complexity and beauty of their journeys and contesting the power and privilege that oppress. The performance will be staged by Just Us Dance Theatre, and choreographed by Joseph Toonga.
Real life accounts from black men across London with ages ranging from 17 to 45 generate a poignant responsive double bill which puts cultural identity, the challenges of racial stigmas and the mental health agenda centre stage. Joseph Toonga's choreography is shown to powerful effect, with the language utilising the hip hop form and culture and the linear extensions from contemporary dance to tell real life stories, including his own, physicalising the experiences of many young under-represented men in the UK today.
Renowned producer, composer and DJ Michael 'Mikey J' Asante, co-artistic director of Boy Blue Entertainment and a fixture of the UK urban music industry, has created an original score for Born To Manifest. Asante's music – including Toonga's voice, and sounds from his home and his culture – is used to set the various scenes and stories which run throughout the piece. Toonga has worked with three notable associates on the creation of Born To Manifest – Dutch dance dramaturge Peggy Olislaegers, co-artistic director of Blue Boy Entertainment Kenrick 'H20' Sandy and choreographer Sir Richard Alston.
Toonga set up Just Us Dance Theatre, based in East London, in 2007 with Ricardo Da Silva and Rudeen February. A major part of the company's ethos is to inspire, support and nurture others and it has established two mentoring programmes, Lets Shine and New&Notable, to provide tools and opportunities for young emerging hip-hop dance theatre artists.
The UK premiere is at Jerwood Dance House, Ipswich on 4 October, and the London premiere will be at The Place Theatre, on 16 November before touring the country.
Born To Manifest is part of a targeted programme to identify and nurture the next generation of hip-hop dance theatre artists.