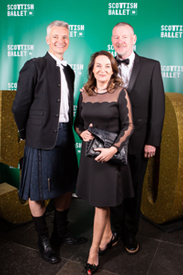 Last month Scottish Ballet transformed the Festival Theatre in Edinburgh for the most glamorous night of the year, Scottish Ballet's 50th anniversary. 350 guests gathered to celebrate Scottish Ballet's 50 years of inspiring audiences, on stage and beyond. The event looked to the future, raising funds for the company's ambitious 'Five in Five' campaign; a commitment to produce five new full-length ballets, over the next five years.
Alongside a silent and live auction including top prizes such as afternoon tea with Dame Darcey Bussell and a once in a lifetime trip to join Scottish Ballet in New York, guests were treated on the night to three world premiere performances from the company. Principals Andrew Peasgood and Bethany Kingsley-Garner danced a Pas-de-Deux from Christopher Hampson's new work The Snow Queen, set to music by Rimsky-Korsakov, which will premiere this December. The Snow Queen is the second of the five new ballets commissioned under the Five in Five campaign and will tour Scotland and to Newcastle this winter. The full Scottish Ballet company performed a Charleston created by Strictly choreographer, Hannah Flynn, which led into a night of everyone dancing to music from That Swing Sensation.
Acclaimed ballet creator Gary Harris, who collaborated with Scottish Ballet on Hampson's production of Hansel & Gretel, designed the stunning decor for the Gala. Scottish Ballet's Technical and wardrobe departments delivered the staging and costumes. Tickets to the event, a raffle and an auction generously supported by businesses from across Scotland and the UK raised £160,000 in support of Scottish Ballet's groundbreaking stage and outreach work. The night was a significant achievement and fitting tribute to 50 years of being 'crafted by Scotland'.
Scottish Ballet, founded in 1969, is Scotland's national dance company. Based in Glasgow, the company performs regularly across Scotland, and increasingly throughout the UK and internationally – promoting Scotland's pioneering spirit far and wide. Under CEO/Artistic Director Christopher Hampson, Scottish Ballet presents bold, adventurous performances rooted in strong classical technique, accompanied by the Scottish Ballet Orchestra. The company's broad repertoire includes new versions of the classics and ground-breaking commissions, as well as an innovative digital season every two years.