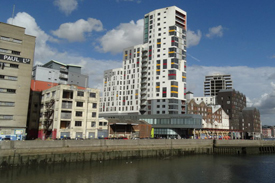 As part of the venue's 10th birthday celebrations, DanceEast has curated a second series of celebratory events to mark the occasion.
Young Rural Retreat, 29 August–1 September
In 2003, DanceEast conceived the now internationally recognised Rural Retreats, international think tanks for dance directors, looking at the future of dance. In this anniversary year, it is turning its attention to the aspiring dance leaders of the future – creative and bold young people aged 18–23. The Retreat will be led by Christopher Hampson, Chief Executive and Artistic Director of Scottish Ballet, and Catherine Cassidy, Director of Engagement at Scottish Ballet.
Ten: The Gala, 14 September
Some of the UK's most exciting dance companies and artists – including Company Wayne McGregor, English National Ballet, Russell Maliphant Company, Scottish Ballet and The Royal Ballet – will come together for a fundraising gala to support Dance in Perpetuity, a new fund to enable DanceEast to continue delivering the highest quality of dance into the future.
Richard Alston Dance Company, Snape Maltings, 1 & 2 November – world premiere
Richard Alston gives the world premiere of Shine On, the last piece he will make for his own company which is due to close in 2020. Co-commissioned by DanceEast, Snape Maltings and the John Ellerman Foundation.
Ballo Arthur Pita, Ten Sorry Tales, 13–17 December – world premiere
Ballo Arthur Pita performed at Jerwood DanceHouse's opening gala in 2009 and now brings the DanceHouse's 10th anniversary celebrations to an end with its new show. Beautifully eccentric and infused with gothic charm, Ten Sorry Tales is a collection of modern-day fables written by Mick Jackson, from the child who sleeps for fifteen years to the sinister sisters who prey on trespassers and the boy who brings butterflies back to life.
The first five celebratory events included the world premiere of Epilogues, a new programme from James Cousins Company; Host, a day celebrating the artistry of older dancers; the world premiere of Silent Lines from Russell Maliphant Company, company-in-residence at Jerwood DanceHouse; the world premiere of Botis Seva's MADHEAD for the National Youth Dance Company and House to Home, a one-off event telling the story of the Jerwood DanceHouse and featuring over 100 dancers from the local community.