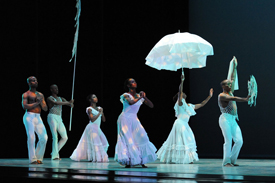 Following its recent 60th anniversary, Alvin Ailey American Dance Theater brings its 32 extraordinary dancers to Sadler's Wells, presenting a series of new works alongside modern classics in three mixed programmes from Wednesday 4 – Saturday 14 September.
Founded in 1958, Alvin Ailey American Dance Theater is recognised by US Congressional resolution as a vital American "Cultural Ambassador to the World," promoting the uniqueness of the African‐American cultural experience, and the enrichment of the American modern dance tradition. 2019 marks 30 years since Alvin Ailey's death, during which time the company has been directed by Judith Jamison from 1989-2011, followed by Robert Battle, its current Artistic Director. This year has also seen an announcement from Fox Searchlight that Oscar-winner Barry Jenkins (Moonlight, If Beale Street Could Talk) is to direct a film based on the life and work of Ailey.
Inspired by the life and legacy of the company's founder, Rennie Harris' Lazarus uses street dance language set to an eclectic score that encompasses Nina Simone, original music and the voice of Ailey himself. This UK premiere is the first two-act ballet in Ailey's history, and is part of the first of the company's three programmes for Sadler's Wells.
The second programme features a new production of Juba (2003), Artistic Director Robert Battle's first work for the company, setting folk traditions in a modern world. Ronald K. Brown offers up his love letter to Ailey, set to the music of Johann Sebastian Bach, the Mary Lou Williams Trio and Asase Yaa Entertainment Group, in The Call. And the prolific Jessica Lang's 100th ballet, EN, explores fate, destiny and the metaphor of the circle.
In the company's third programme, Alvin Ailey American Dance Theater dancer and rising-star choreographer Jamar Roberts takes an abstract look into the notion of "having the blues" in Members Don't Get Weary, set to the music of jazz icon John Coltrane. And company Artistic Director Robert Battle matches the legendary Ella Fitzgerald's Airmail Special to a dizzyingly fast duet in Ella.
Alvin Ailey's Revelations, the company's signature piece, closes each of its programmes at Sadler's Wells. Performed as a prayer, Revelations moves from grief to elation as it explores African-American cultural heritage alongside an emotional score of spirituals and holy blues.