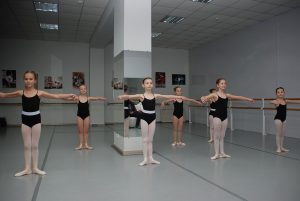 This summer, London's all-children ballet company is reviving its 2001 hit, Ballet Shoes, based on the much-loved children's novel by Noel Streatfeild.
The show – running at London's Peacock Theatre from 4-7 July – marks London Children's Ballet's 25th Anniversary season and will be brought to life by the company's talented cast comprising 56 young dancers aged 9-16. With specially commissioned choreography, sets, costumes and scores, and a live orchestra accompanying each performance, the London Children's Ballet productions provide an ideal introduction to ballet and classical music for young audiences and their families.
This year's revival of Ballet Shoes will be choreographed by ex-London Children's Ballet cast member, Ruth Brill who is now a First Artist of Birmingham Royal Ballet. Ruth returns to London Children's Ballet 18 years after she starred as Pauline Fossil in the original 2001 production of Ballet Shoes, which was choreographed by Cathy Marston.
Ballet Shoes tells the story of the Fossil sisters, Pauline, Petrova and Posy. The three sisters are adopted in the 1930s by an eccentric explorer, Great Uncle Matthew, who delivers them into the care of his niece and a no-nonsense housekeeper, then promptly disappears. When hard times come, the determined girls decide to seek their fortune by joining a stage school, with intentions of acting and dancing their way into the history books. This may be bliss for Pauline and Posy, but Petrova dreams only of motor cars and flying in an aeroplane. As the family grows up, each girl is pulled in a different direction, learning valuable life lessons along the way.
Every year over 700 children audition to join London Children's Ballet. The 60 children who are cast are given 100 hours of free ballet training culminating in the chance to perform in a professionally created ballet on a west end stage. London Children's Ballet fundraises year-round to ensure that it is able to offer its unique opportunity to all of its young dancers regardless of their circumstances.
Demand for places has remained so high that a second branch of the company, London Children's Ballet Touring Companies, was created in 2004 to increase the number of children able to participate and to broaden the outreach the organisation is able to achieve. Twice a year 50 additional London Children's Ballet touring company dancers perform in residential homes, hospices, day centres and Special Educational Needs schools with a 30-minute tailored performance, taking ballet out into the community and ensuring an enriching experience for all involved.