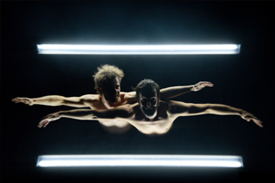 Dance Umbrella recently announced the final third of its 2019 programme, including a Cunningham centenary triple bill. Sixteen of the eighteen artists are making their Dance Umbrella debuts and the pan-London festival is taking place in thirteen different boroughs.
Dance Umbrella is London's international dance festival which works to shine a light on new choreography, sharing memorable shows from around the world with audiences across the capital. It is committed to taking dance out and bringing audiences in by touring in inner and outer London, broadening definitions of contemporary dance, and developing partnerships with non-dance venues and organisations such as The Big Draw, National Theatre, Battersea Power Station and local councils.
Opening the celebratory event includes CCN – Ballet de Lorraine. The company's connection with Cunningham is reflected in a re-reading of a once-lost 1944 work. Retaining John Cage's piano score, For Four Walls sees 24 dancers perform new choreography by Petter Jacobsson and Thomas Caley in a mirrored space. To end, the unpredictability and dynamism of Cunningham's 1975 classic, Sounddance, provides a perfect salute to his Centennial. Following this is a Merce in the UK panel discussion, chaired by Jeremy Millar, and with panellists Richard Alston, Gavin Bryars, Julie Cunningham and Siobhan Davies. They will talk about the lasting legacy and influence of Merce Cunningham.
In the third and final year of Dance Umbrella's Out of the System initiative, choreographer, performer and educator Freddie Opoku-Addaie's curational work closes with a timely and FUN-tastic vogue ball, which runs alongside a quadruple bill of UK talent; Freddie has also programmed an afternoon of Sunday Cinema.
The weekend Takeover features a mix of international dance, pop-up events, performance-parkour thrills, homegrown talent, workshops and mayhem for all ages. Joining previously announced artists Mythili Prackash and Philippe Saire, The Urban Playground Team is known for its authentic fusion of free running and streetwise dance. Superstar hip-hop company Boy Blue performs its latest large-scale production, wrapping up the weekend with the final Takeover performance.