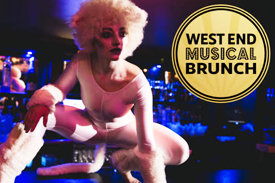 The immersive West End Musical Brunch is held at various secret locations in the heart of theatreland in London. It is the perfect experience for those who love musical theatre and are ready to completely indulge in this stagey event.
A ticket to West End Musical Brunch gives audiences the chance to get up close and personal with the stars from their favourite West End shows, against a hugely different backdrop to usual. At West End Musical Brunch there have been some of the biggest names in musical theatre there to perform to fans in attendance, including Layton Williams, Lucie Jones and Lauren Samuels.
It is the ultimate musical theatre lover's dream, with five hours of being totally immersed in everything performance. The event is a completely different way to experience your favourite shows, in the comfort of a completely different venue, and surrounded by food and drink. Audiences have been known to dance on the tables, join in the songs and really let loose amongst the walkabout artists, West End stars and the official West End Wendys dance troupe.
At West End Musical Brunch, the audience don't just come and watch as they would a normal show, but they become the cast. Any true fan goes to watch a musical and wishes they could join in, so at West Emd Musical Brunch audiences can sing along with the stars, engage with them and act out songs from their favourite musicals.
Ultimately every show is different. Audiences won't know who or what they are going to get at West End Musical Brunch: the show, the stars and the location change each week. One week it could be Les Mis, Phantom or The Bodyguard alumni, and the next could be a cast takeover from Hamilton, Aladdin or Wicked. The dances, costumes and songs are different for every single show, which makes it all the more exciting for guests!
© West End Musical Brunch