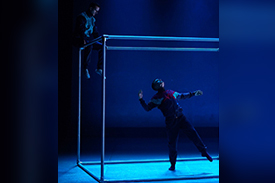 This summer, the internationally lauded BalletBoyz made its West End debut with its critically-acclaimed Them/Us, an innovative double bill. It is a brand-new collaboration from the company's own dancers and the Olivier Award-winning choreographer Christopher Wheeldon. A co-production with Sadler's Wells, Them/Us played at Sadler's Wells in March this year as part of a recently completed UK tour. The production will run until 15 June at the Vaudeville theatre.
The strictly limited run only adds to the anticipation of the Boyz' performances. The new productions are both set to original scores by world-class composers and ask where we see ourselves in relation to the "other".
A first in the history of BalletBoyz, Them is the work of the company's very own in-house talent, and set to a score by emerging composer Charlotte Harding. The piece was devised by the dancers, working to find a common theme in their own creation of movement. They worked together in slick unison through Them, each adding their own individual elements to the work. They showcased their own strengths and even injected some humour into their smooth, elongated and stretched out movements. The giant cube which accompanied them in stage was used as part of the movement vocabulary as it was slid, twisted and flipped around the space.
Us is inspired by the critically-acclaimed Christopher Wheeldon duet featured in the company's last show, Fourteen Days. With an extended score by cult singer/songwriter, Keaton Henson, Christopher Wheeldon develops this new work which explores the possibilities of before, during and after. It is a sensitive and sensual work which ends with a seamless duet full of lifts and movements working in and out of the floor. The dancers worked together synonymously to convey the raw emotion within Us. Long, languid movements filled the score, which was hugely emotive, and the highly skilled dancers gave a solemn yet sophisticated performance.
The BalletBoyz philosophy is to make dance accessible for all, from providing opportunities for young dancers to get into the industry to staging contemporary dance in a welcoming atmosphere for audiences old and new. Them/Us demonstrates the versatility of the company featuring choreography from its talented dancers, alongside work by Wheeldon, culminating in a great evening of entertainment.