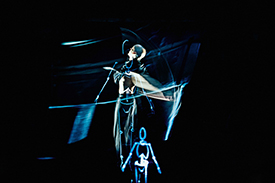 The Olivier Award-winning Russell Maliphant Company held the world premiere of much anticipated new work, Silent Lines, at DanceEast in Ipswich on 5 and 6 April; a ground-breaking new dance production with video artist Panagiotis Tomaras and new team of exceptional dancers. The premiere at DanceEast, where it is 'Company in Residence', will now be followed by a UK national tour running through to October, featuring dates in Nottingham, Newcastle, Guildford, Salford Quays, Wycombe, Birmingham, Taunton, Newport, Lancaster and London, with more to be announced.
Silent Lines draws upon Maliphant's research and explorations in dance and experiential anatomy using a unique mix of movement, animated video projection and lighting. The piece investigates a range of poetic possibilities, using the visually rich connections between internal and external worlds, the microcosm and the macrocosm. Drawing on methodologies from a variety of movement disciplines to examine qualities and setting these within a world of animated light, Silent Lines explores the endless web of connections we encompass and embody.
Russell Maliphant Company was established in 1996 as the framework for Maliphant to initiate productions and to work with his own ensemble of dancers. Since that time, the company has received two Olivier awards, three South Bank Show awards and three Critics' Circle National Dance awards for best modern choreography, amongst many other national and international awards and nominations
Russell Maliphant Company is an internationally acclaimed dance company founded on the vision of award winning choreographer Russell Maliphant. Through the company's innovative approach to flow, energy, movement and light, Russell Maliphant Company creates and presents award-winning dance experiences and developmental opportunities to inspire and challenge audiences, professional creatives, emerging talent and young people across the UK and internationally. Maliphant's dance language spans formal classical and improvised contemporary techniques; draws upon qualities from yoga, capoeira and tai chi; and is heavily influenced by physiology, biomechanics and lighting design.