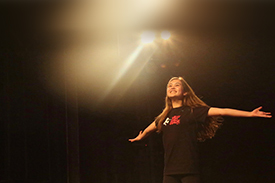 The week-long theatre summer school for 8 – 21 years olds, West End Stage, returns to London this August, as the ultimate summer holiday activity for young performers. In 2006, West End Stage began, with the aim of igniting a global passion for theatre, bringing together young people from all over the world through their shared love of performing. In 2018, when the summer school celebrated its 10,000th student, 26% of students attended from outside the UK, coming from 52 countries.
All of West End Stage's tutors are West End performers who lead a mix of drama, singing and dance classes, grouped according to the students' age and ability. They challenge, support and encourage the young performers to shine on a West End stage themselves. The highlight of the week is when students make their very own West End debut at Her Majesty's Theatre, the home of The Phantom of the Opera. They have the exciting opportunity to step out in front of a huge audience of family, friends and industry professionals, including casting directors, agents and directors.
Part of the activities is the chance to be treated like a real West End performer in masterclasses with industry professionals, all designed to teach participants something new, from choreography straight from the West End to new types of stage combat or acting for television. Summer school students also head into the bright lights of London's West End as they enjoy one of its productions, followed by a Q&A with some of the show's cast members.
West End Stage takes place in the facilities at the Guildhall School of Music and Drama, one of the top theatre schools in the world with state of the art studios, theatres, concert halls and studio theatres. The course runs from Monday to Sunday (5 – 11, 12 – 18 and 19 – 25 August).