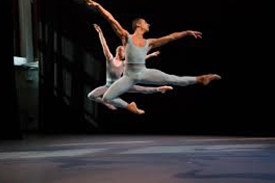 Central School of Ballet, along with five of the UK's leading conservatoires, has announced an ambitious project to provide new state-of-the-art facilities using digital technology. The creative collaboration will allow the consortium's students and partners to learn, train and perform across multiple locations in real time, diving straight into the future of arts training and performance using technology.
Entitled Virtual Conservatoire, the four-year project is a collaboration of Bristol Old Vic Theatre School, Central School of Ballet, London Academy of Music and Dramatic Art (LAMDA), Royal Academy of Dramatic Art, Royal Academy of Music and Royal College of Music. Together, the six Conservatoires are transforming their facilities into state-of-the-art digital spaces resulting in a new template for conservatoire training, which pioneers digitally enabled pedagogy and practice, and the scope to transform live performance art into a multi-location experience. It will enable real-time collaboration across the consortium for the first time.
To mark the culmination of the project, following a series of student scratch nights the consortium joined with immersive theatre makers Raucous, to produce and perform 'Otis and Eunice'. In a world-first, the production involved two interconnected shows performed simultaneously to two audiences, in two venues, from two different cities, giving audiences a dual perspective on the tale of Orpheus and Eurydice.
The shows, which were performed in Bristol and London on 29 and 30 March, demonstrate the potential of the Virtual Conservatoire to bring together the best creative talent, marry multiple disciplines, including dance, music and drama, and push the boundaries of the development, performance and audience's experience of art. Six of Central's dancers took part in the performance in two venues, all from the second year of the three year degree course in Professional Dance & Performance.
Following the successful launch of the programme, the consortium plans to continue to extend the reach and impact of the Virtual Conservatoire. The consortium will use the programme to create relationships with sector and industry partners and audiences globally, who will be able to access and experience learning and performance, enhanced by engagement with additional online collections and resources.