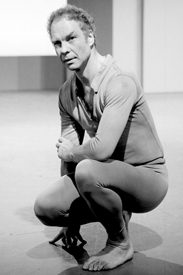 As part of the official global celebration of the Merce Cunningham Centennial, the Barbican presents the world premiere and co-production of Night of 100 Solos: A Centennial Event, in the Barbican Theatre. Also to be presented is the UK premiere and Barbican co-production of Not a moment too soon in Silk Street Theatre; and If the Dancer Dances, directed by Maia Wechsler, in Barbican Cinema 2.
Not a moment too soon is a solo performance by Trevor Carlson, former Executive Director of the Merce Cunningham Dance Company, and reflects on the years he spent as companion to the choreographer, offering a rare insight into his final days. Carlson's performance is a mix of video, text, music and movement layered with previously unseen footage. He presents a visual and oral history of their adventures through recollections of precious moments spent together.
In Night of 100 Solos, the largest Cunningham Event ever conceived, 75 dancers will be distributed across three venues: the Barbican; BAM in New York City and UCLA's Center for the Art of Performance in Los Angeles. On each of these stages, 25 dancers will perform a unique collection of 100 solos Cunningham choreographed over the course of his career, with live music and a bespoke set design. Nearly half of Cunningham's former company members participate in the creation of this Event, taking place on what would have been his 100th birthday. All three parts of the Event – the performances in London, New York and LA – will be live streamed.
Maia Wechsler's documentary film If the Dancer Dances shows Stephen Petronio Company and former members of the Merce Cunningham Dance Company rehearsing Cunningham's RainForest (1968). Three former members of the Merce Cunningham Dance Company teach Cunningham's iconic 1968 RainForest to Stephen Petronio dancers, who have just twelve days to learn the new choreography and find the courage to master an entirely new movement style.
This programme works to celebrate the legacy of Cunningham whose unparalleled body of work helped to drive the evolution of the American avant-garde and expanded the frontiers of contemporary visual and performance arts. Cunningham is widely considered one of the most important choreographers of all time. Over his career, Cunningham choreographed 180 dances and over 700 Events, and proposed radical innovations to how movement and choreography are understood, and sought new ways to integrate technology and dance.