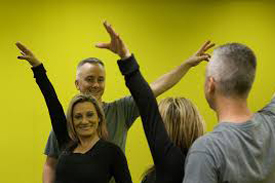 DANCE ON, a new series of dance classes for older adults in Bradford, Doncaster and Leeds, was recently launched, supported by National Lottery funding from Sport England. DANCE ON will see newly-appointed dance artists working with various community groups to set up new classes across the three cities, championed by Arlene Phillips CBE – the choreographer, theatre director, television judge and presenter, former dancer and patron of One Dance UK.
Designed to be a way to meet new friends, move to music and have fun, the sessions are targeting people over the age of 55, and are open to anyone. Participants don't need any experience of dance, and it's possible for people even with limited mobility to take part, either standing or sitting. Five groups are already meeting regularly in venues across Bradford, seven around Leeds and six in Doncaster, and many more are scheduled to start in the coming weeks.
Dance On is delivered by a partnership of One Dance UK, Yorkshire Dance and darts (Doncaster Community Arts), funded by Sport England thanks to money raised by National Lottery players. In time, the partnership aims to be running dozens of groups across Yorkshire. Anyone can attend their first Dance On session for free, and admission prices are being kept to a minimum to ensure the sessions are as accessible as possible, with many offering free places in every session.
Getting older doesn't have to mean slowing down. Instead it can be a time for change like learning a new skill such as dance – being active can bring about significant benefits and moving more is key to maintaining physical function as you age, even in your 90s. Many people just need the right opportunity and support to feel capable to do more activity, which Sport England is supporting by investing £10 million of National Lottery funding into over twenty projects, such as Dance On.
Find out more details of sessions near you: http://dance-on.org/