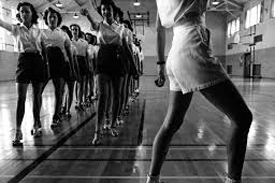 The discipline of tap dancing has been around since the late nineteenth century, acting as the dance of jazz music. While most of the commercial dance seen in the media is mostly competitive – modern, contemporary or balletic – tap still holds a firm place in the interests of dancers.
Tap can be described as both movement and music, as while it is usually performed to music, it also makes its own music with tap shoes, as does other foot-stamping dance forms such as flamenco, Irish dancing and Indian classical dance. The sight of the steps and movements of the feet combined with the sounds being made means the audience is treated to double the performance. Tap dance as we know it today emerged in dance halls with its special technique and, as it grew alongside jazz, its special rhythmic qualities. From the 1920s through to the 1950s, tap was everywhere and could be seen in films, musicals, vaudeville, and in clubs.
Over time there were notable changes to tap. In Broadway shows, the tap acts changed to "dream ballets" and nightclubs were closed. Popular music changed from jazz to rock and roll, and Motown took centre stage. However the 1970s saw another shift: a number of female tappers decided tap had to be saved and organised festivals where tap could be performed and taught again. Tap continues to develop today, with new tapping innovators and new steps to accomplish. Considering the history of tap and its rate of development, the future looks exciting for tap.
It therefore seems tap will always be a popular discipline, offering a very different dance experience. Not only must you move like a dancer, but you must also tap like a tapper, learning the intricate beats of each step. With this however is something very fulfilling – a double whammy, as it were. There are many tap classes on the market to suit all ages and abilities – it's a movement everyone should have a taste of!