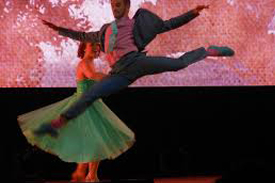 So You Think You Can Dance, first gracing our television screens many moons ago, has enjoyed at least a dozen series. It's format focused on featuring adult dancers between the ages of 18-30, and popularised many established choreographers among the masses, such as Mia Michaels. The programme, now an Emmy Award winner, dabbled in the featuring of younger dancers, however it soon returned to its original focus on older dancers.
A couple of years ago, a 14 year old dancer was named the winner during the live two-hour season finale, the show's youngest winner. Here SYTYCD reportedly had more than 180 million video views on social media last season and the series – at the time – celebrated its 250th episode. This year new show The Greatest Dancer crowned young dancer Ellie Fergusson it's winner, different in format but continuing to champion dance in all its forms.
SYTYCD centres around established dancers showcasing their talents in various dance styles, including contemporary, tap, hip-hop, ballroom, animation, and breaking. The Top 10 dancers are paired up with All-Stars who will guide them throughout the competition as they bid for votes and the title of America's Favourite Dancer. It has been clear from the programme's audience that the preference is for older dancers. Having said that, The Greatest Dancer, while different in format, saw a younger dancer come out on top last month, similarly paired with a mentor to see them through the competition – for Ellie, it was Strictly come Dancing professional Oti Mabuse.
Over its many seasons, SYTYCD has received at least 55 Emmy Award nominations and garnered 14 Emmy Award wins. The hit series also received a Teen Choice Award in 2006 and a Television Critics Association Award in 2012 for Outstanding Achievement in Reality Programming. It will be interesting to see how The Greatest Dancer fares following its initial screening, and the new talent it might unearth.