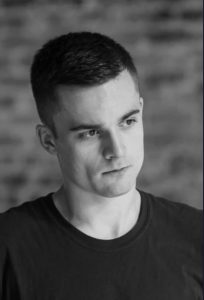 Originally from South Wales, Liam was a NDCWales associate and Royal Ballet Junior associate before studying contemporary dance at Coleg Gwent in Newport. This led Liam to London to complete his degree at London Contemporary Dance School. Upon graduating Liam joined Richard Alston Dance Company, touring nationally and internationally for eight years. During his time in the company Liam was nominated seven times in six consecutive years at the Critics Circle National Dance Awards. In February 2018 he won Best Male Dancer 2017. He has also danced for James Cousins Dance, was featured in renowned photographer Rick Guest's exhibition and book 'What Lies Beneath', and was Dancing Times dancer of the month. Liam joined BalletBoyz in October 2018.
Liam will be performing in the upcoming Them/Us.
Have always wanted to be on stage?
Not always. I started dancing as a hobby but when I started perform on stage it felt like a second home.
Where did you train, and what was it like?
I trained at London Contemporary Dance School (at The Place) where I achieved BA (Hons) Degree in Contemporary Dance. The training was intense but it taught me how to become a professional.
Describe a day in your life now.
My day consists of commuting to work, class, rehearsals, and making sure I have down time, allowing my mind and body to rest.
What has been the defining moment of your career?
I would have to say winning my Critics Circle National Dance Award for Best Male Dancer of the Year. Being against the best of the best and winning was incredible, completely unexpected and I'm still incredibly grateful.
What has been the most challenging?
I think during my career the most challenging thing was making the decision to leave Richard Alston Dance Company last year and go freelance. It was my first professional company and they all meant a great deal to me, but it was the right time to go.
What's the most rewarding thing about dance?
It's my passion and I love what I do. It allows me to express myself and makes me a better me!
What's the worst thing?
The pain! 100% the pain, but like they say, no pain no gain!
Do you have any pre-show rituals?
Not so much rituals, more routine. After tech-ing the show I'll eat, grab a coffee then shower and prep myself before heading to the stage to warm up. Usually about 30 minutes before curtain up. Then I change into costume and head out to perform.
Who or what inspires you?
For me it's not about who can kick their leg the highest, it's when you see someone move and its coming from somewhere deep inside – its magic to see someone deep inside its magic, to see someone express that on stage and get lost in their energy.
What are you most looking forward to about performing Them/Us?
This will be my first UK tour with BalletBoyz so I'm excited to hit the stage with the boys. The show consists of two very different pieces which are equally exciting to perform!
What was the rehearsal process like?
Rehearsals are tough especially when you get down the fine details and start picking apart each section, but we have a wonderful rehearsal director, Charlotte Poor, who whips us into shape!
Can you describe the two pieces in three words each?
THEM – innovative, intriguing, driven
US – unified, demanding, expressive
What is your advice to an aspiring dancer?
Work hard if you are passionate about dancing; put that passion into your practice. Try and gain as much experience as possible, even from a young age. It's good, especially now, to have as many strings to your bow as possible.
What's next for you?
Well, we have our UK tour about to begin, opening in Edinburgh. Who knows what the future holds. The dance world is constantly changing and as an artist its good not to rest on your laurels, and always be thinking about what opportunity is waiting around the corner!
BalletBoyz presents Them/Us at Sadler's Well's in London from 5-9 March and then on UK tour until 28 April. www.balletboyz.com