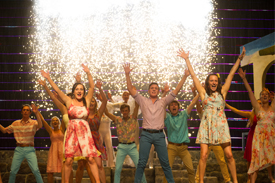 Usually it is the end of a year that sees dancers and performers mapping out the goals that they hope to achieve in the future, however there is nothing to stop you defining new goals at any time of the year. It could even be argued that setting goals at the start of a new year adds unnecessary pressure to doing so, and may mean you are less likely to attain these goals. Even if you don't want to focus on conventional resolutions, it is still easy to jot down a few things you'd like to improve on.
In developing your intentions, work to create a tangible plan to achieve them. If the goals you set are specific and realistic, you are much more likely to achieve them. For example, rather than stating, "I want to be a better dancer", note down whether it is your pirouettes you'd like to improve, or your stage presence, or a role you'd like to audition for. Whatever your goal is, make sure it's well defined so you can plan effectively and make it achievable.
If your goals are possible, they will of course be much more achievable. Plan the steps you will need to take – how much work do you envision you will need to put in, will you need to hire a studio for the extra hours? Will you need additional lessons or is it something you can work on during class? Is cross-training or another activity outside dance required? Creating realistic goals requires honesty about what you have to give, and preparation to put the work in.
Above all, keep persevering with your goals! Don't forget about them half way – some find it easier to tie your new practice to an existing habit, as it's more likely to stick. Find some inspiration, believe in yourself, plan for success, and practice, practice, practice.