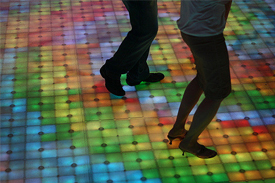 The Critics' Circle National Dance Awards for 2018 were presented at a ceremony at London's Barbican Centre on 18 February, hosted by Mbulelo Ndabeni and Cira Robinson.
Mark Baldwin OBE was awarded the De Valois Award for Outstanding Achievement in recognition of his career, to date, as a dancer and choreographer, including his time as Resident Choreographer at Scottish Ballet and his sixteen-year service as Artistic Director of Rambert, which included winning the Outstanding Company Award in 2010. His award was presented by Judith Mackrell, until recently the chief dance critic of The Guardian.
Akram Khan won a record eighth National Dance Award for his solo performance in XENOS, and there was a first victory for a flamenco artist (Rocío Molina), as well as for Taiwan, with Cloud Gate Dance Theatre of Taiwan winning the Stef Stefanou
Award for Outstanding Company. Ballet remained the most popular dance form amongst the critics, taking a total of six awards including the two Best Dancer awards, won by The Royal Ballet's stellar partnership of Vadim Muntagirov and Marianela Nuñez; while Alina Cojocaru of English National Ballet won the Outstanding Female Classical Performance Award for the second successive year.
All awards as follows:
CRITICS' CIRCLE NATIONAL DANCE AWARDS WINNERS 2018
OUTSTANDING CREATIVE CONTRIBUTION
Lucy Carter (Lighting Designer)
BEST MODERN CHOREOGRAPHY
Crystal Pite for The Statement for Nederlands Dans Theater 1
OUTSTANDING MALE CLASSICAL PERFORMANCE
José Alves in The Suit for Ballet Black
OUTSTANDING FEMALE MODERN PERFORMANCE
Rocío Molina in Caída del Cielo/ Fallen from Heaven for Cía Rocío Molina/Dance Umbrella
OUTSTANDING FEMALE CLASSICAL PERFORMANCE
Alina Cojocaru as Princess Aurora in The Sleeping Beauty for English National Ballet
OUTSTANDING MALE MODERN PERFORMANCE
Akram Khan in XENOS for Akram Khan Company
BEST CLASSICAL CHOREOGRAPHY
Cathy Marston for The Suit for Ballet Black
EMERGING ARTIST AWARD
Precious Adams (first artist, English National Ballet)
BEST INDEPENDENT COMPANY
Russell Maliphant Company
STEF STEFANOU AWARD FOR OUTSTANDING COMPANY
Cloud Gate Dance Theatre of Taiwan
DANCING TIMES AWARD FOR BEST MALE DANCER
Vadim Muntagirov
TENDU AWARD FOR BEST FEMALE DANCER
Marianela Nuñez
DE VALOIS AWARD FOR OUTSTANDING ACHIEVEMENT
Mark Baldwin OBE