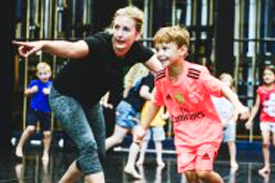 National Dance Company Wales is working with venues and community partners in three regions of Wales to introduce new people to dance. NDCWales has appointed three Dance Ambassadors to help attract new audiences for dance in those regions, delivering participation activity and raising the profile of dance. This model of working was piloted last year when the company received a similar grant from Arts Council England to work with four venues which wanted to develop engagement with young people and adults.
The Dance Ambassadors are Luke Ganz (Swansea); Angharad Harrop (Bangor and North West) and Angharad Jones (North East Wales).
Swansea's Dance Ambassador Luke Ganz is from Port Talbot and is a teacher, choreographer and dancer who has worked with Hofesh Shechter, Hannah Bruce & Co, Errol White, Dog Kennel Hill, Maya Levy, Yael Flexer, Ben Wright, Joe Moran, Stacey Spence (Trisha Brown Company) and Charlotte Darbyshire. Luke currently co-directs the County Youth Dance Company in Swansea as well as lecturing and teaching at Bridgend College. He has also taught across South Wales at various colleges and schools.
Mold's Dance Ambassador Angharad Jones has been based in North Wales as a freelance dance artist over the past five years, and has recently joined Theatr Clwyd's acclaimed Creative Engagement team as Dance Associate. Angharad is committed to delivering dance activities to people of all ages and abilities and has worked in a variety of settings within the community as a dance practitioner. Angharad also regularly works with North Wales-based dance companies Little Light Dance and Digital Theatre and Vertical Dance Kate Lawrence, as a performer and dance practitioner.
The Dance Ambassador for North West Wales, Angharad Harrop has worked as an independent artist as a performer, creator and teacher. She also worked with local community dance groups including Dawns i Bawb, and with different groups across rural communities in north Wales. She is also a lecturer in Dance at The University of Chester. She has been a teacher at Edge Hill University, Ormskirk and De Montfort University, Leicester. Angharad's role as Pontio "dance buddy" has enabled her to develop her dance on film work, engage with local communities through the centre's dance projects and more recently put dance centre stage at CONSALL Neuroscience Conference held at Pontio.
The Dance Ambassadors will be delivering workshops and activities in their local communities connected to the performance of NDCWales' Awakening Tour in March and April 2019.