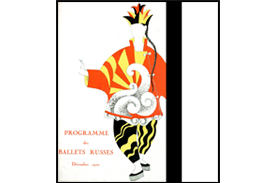 Stories from the Diaghilev's Ballet Russes, told through costumes, programmes and objects, will be shown together for the first time in the UK at Worcester City Art Gallery and Museums, alongside a Hayward Gallery Touring exhibition, Matisse: Drawing with Scissors from 2 February until 27 April.
Diaghilev's Ballet Russes features a unique collection of costume and ephemera telling the stories of the Ballet Russes, the most spectacular and scandalous ballet company of the early 1900s. Matisse was one of many artists commissioned to create costumes and scenery for the company, one of the 20th century's most influential artists. This exhibition features 35 lithographic reproductions of the famous cut-outs that he produced in the last years of his life, including iconic images such as The Snail and the Blue Nudes.
Critical opinion agrees that Serge Diaghilev was the driving force behind the renaissance of dance in Western Europe. His was the sharp eye that discovered the amazing dancers Valslav Nijinsky and Tamara Karsavina, the designers Picasso, Bakst, Benois, Gontcharova, Braque, and Derain whose designs electrified Europe and changed the nature of both music and colour appreciation in the West.
His was the musical ear that discovered Stravinsky and brought Rimsky-Korsakov and Borodin and the great Russian opera singer Chaliapin into prominence in the West. Diaghilev could be generous and sensitive but also ruthless in his judgements when the final criterion was artistic excellence.
During the mid-70s, Leonid Massine, a dancer and choreographer who had worked extensively with Diaghilev with the Ballets Russes, in its early days and afterwards, came to The Royal Shakespeare Theatre at Stratford-upon-Avon to oversee a revival by the Sadler's Wells Royal Ballet company (now Birmingham Royal Ballet), of Massine's comedy ballet La Boutique Fantasque, which had originally been created for Diaghilev.