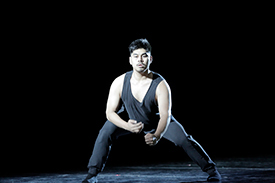 A hip hop theatre company – Body Politic – is raising awareness about mental health problems in men and boys through its show Father Figurine. Spring will see a UK tour, combining spoken word poetry with hip hop dance. The tour will include Omnibus Theatre, Clapham; Cornerstone Arts Centre, Didcot; Mill Arts Centre, Banbury; Stephen Joseph Theatre, Scarborough; and Stratford Circus, London.
Recent research has shown that there has been a sharp rise in the number of young people seeking help because of anxiety, and nearly half of men believe they can't express their feelings. Figures show that 75% of mental illnesses start before a child reaches their 18th birthday, while 50% of mental health problems in adults begin before the age of 15. Father Figurine will therefore strive to bring these figures to light and empower men and boys.
The Oxford-based company will tell the story about a turbulent father and son relationship, and will also work with young people between the ages of 11-19 to create curtain raisers. They will develop creative choreographic skills to present a piece of work on the topic of mental health in young people. It is hoped that this will encourage young people to explore what mental health means to them and bring their own ideas to the stage.
Founded in 2012, Body Politic is a not-for-profit hip hop theatre company which is committed to addressing the growing prevalence of mental health issues in young people. The company was successfully funded through Grants for the Arts, and performed its first full-length sell-out triple bill at Pegasus Theatre as part of Dancin' Oxford Festival, titled 'Reflections'. Body Politic received funding to extend Father Figurine into a full-length piece, an extract of which was performed as part of Resolution at The Place in January 2018. The piece was performed in its entirety as part of MOTUS Festival, Milton Keynes in June.