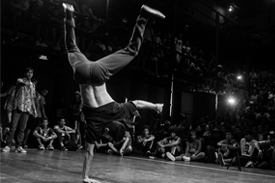 Renowned international dance competition Popcity UK will soon bring together world-renowned dance artists and the UK hip hop and Popping community with 450 UK-based dancers, international judges, guest performers and live DJs in the first hip hop event of the year. Winners will have the chance to represent the UK at the Popcity Finals in East Asia in December 2019. Activities leading up to the competition, which takes place on Saturday 5 January 2019, include taster sessions in Southwark schools for pupils aged 7+ years, and inspirational workshops by London's pioneers of hip hop throughout autumn 2018.
Popcity UK is an event for emerging and established hip hop dancers of all ages from across the UK to come together to train, share knowledge and compete in London Bridge. It is open to anyone who is interested in watching or taking part in Street Dance forms. Under the creative vision of Dickson Mbi, Brooke Milliner and Shawn Aimey from the prestigious Popping Crew Fiya House, the programme creates a platform for the UK hip hop scene to grow, and to gain greater international visibility. Popcity is unique; led by hip hop artists for hip hop artists, with the community at its core.
In person or via live-stream, audiences of the battle will have the opportunity to watch world-class dancers compete in Popping, hip hop, Afrobeats and Under-16s categories and come up close to hip hop culture. Popcity 2019 will be hosting some of the best dancers from across the UK and around the world to make it the biggest event yet.