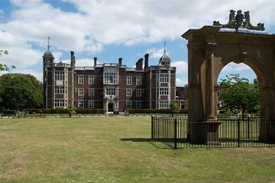 Daily professional classes at Greenwich Dance reconvened in October, following the organisation's move to its new premises.
Classes are based in the Old Library in Charlton House, a Jacobean manor house located centrally within the borough of Greenwich. They remain at the familiar time of 10.30am – 12.00pm, giving dancers the opportunity to buy cheap day returns should they be travelling to the venue by train.
The line up of teachers is diverse. Theo Clinkard, Renaud Wiser, Jean Abreu and Mathieu Geffre have each led successful classes over the past few weeks in the new space, in addition to Leah Marojevic, Ben McEwen, Maria Ghoumrassi, Amy Butler, Annie Lok and Sonia Rafferty lined unto teach before Christmas.
Technique classes take place Monday to Thursday, and Greenwich Dance encourages dancers to book online in advance to avoid disappointment. Classes are in addition to a brand new aspect of the creative programme: every Friday, Performance Enhancement Coach, Khyle Eccles, leads a rain or shine Outdoor Fitness Class for Dancers. Within this unique session, Khyle works to develop athletic ability to support dancers to be industry ready, particularly in relation to outdoor and site specific work (for which Greenwich Dance has become renowned). Khyle will be developing overall fitness, tissue integrity, energy systems, recovery strategies, and overall work potential, and will be looking to provide a supplementary training session that supports dancers' work as dance professionals.
Following the loss of its Arts Council funding in 2017, it has been a challenging few months for Greenwich Dance. However, with additions to its programme and the reinstatement of daily professional classes, hopefully this will see a positive uplift for the organisation.