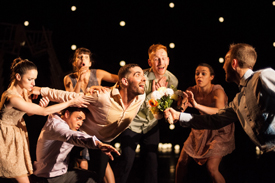 The much anticipated autumn tour of Didy Veldman's The Knot, for her company Umanoove, kicks off at Lakeside Arts, Nottingham on Tuesday 6 November. The tour of the wedding-inspired dance theatre work follows a successful spring tour, and also heads to Cambridge, Birmingham, Portsmouth, Bracknell, Worthing, London, Jersey, Plymouth, Bournemouth and Malvern.
Veldman, a former dancer with Rambert, left the company in 2000 to pursue a choreographic career. In the last 18 years she has become a highly sought-after choreographer and has created works for Les Grands Ballets Canadiens de Montréal, Cedarlake (New York), Cullberg Ballet (Sweden), Introdans (Netherlands), Gothenburg Ballet, Iceland Dance Company and Royal New Zealand Ballet.
In the UK, Veldman has been commissioned by Rambert, Northern Ballet and Scottish Dance Theatre, and in 2019 she creates a new work collaborating with composer Gabriel Prokofiev, the grandson of Sergei Prokofiev, for Birmingham Royal Ballet's inaugural 'Ballet Now' programme.
Known for a sharp-eyed approach and humorous flair, The Knot is Veldman's second work for her company Umanoove since it launched with her critically acclaimed The Happiness Project in 2016. In The Knot, an international cast of seven dancers play the roles of the bride, groom, best man and bridesmaids. Audience members become wedding guests as the dance performance unfolds. Veldman scrutinises what a wedding means and how it feels, the role of ritual, doubt, religion and gender is examined and the romanticised ideas of Walt Disney will challenge our perceptions of marriage.
Dancers returning to The Knot this autumn are: Dane Hurst (Rambert, National Dance Company of Wales, Phoenix Dance Theatre and Company Wayne McGregor); Mathieu Geffré (Dansgroep Amsterdam, Noord Nederlandse Dans, National Dance Company Wales, Theo Clinkard); Oliver Chapman (Henri Oguike Dance, National Dance Company of Wales, Icon Dance); Sara Harton (erSa Danse, Les 7 doigts de la main, PPS Danse, ezdanza); and Angela Venturini (recently a post-graduate student at The Place). Joining them is Mai Lisa Guinoo (Rambert, GoteborgOperans) and apprentice dancer Sam Costello (London Contemporary Dance School).