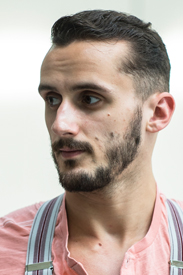 Bradley Waller trained at the NECB School and Rambert School for Ballet and Contemporary Dance. Originally joining as an apprentice, Bradley became a full-time member of BalletBoyz in three months and is now also one of the directors of the Dancer's Course. He has toured nationally and internationally and will make his fifth season with the company.
BalletBoyz presents Young Men at Wilton's Music Hall from Tuesday 13 to Saturday 17 November.
Have you always wanted to be on stage?
I haven't always had the desire to be on stage, it wasn't until I started dancing at 16 that I realised I wanted to pursue a career in dance;  but it was the first time I felt truly passionate about something. I formally trained at Rambert School of Ballet and Contemporary Dance. My time there opened me up to numerous different contemporary styles and techniques which allowed me to really find what I wanted to pursue as a professional dancer.
Describe a day in your life now.
A day in my life at the moment consists of company class in the morning, which is either ballet or contemporary led by our Rehearsal Director Charlotte Pook. This is then followed by rehearsals throughout the day, which vary. We are working on numerous things at the moment, but we are mainly focusing our energies on the new version of Young Men, which opens on 13 November at Wilton's Music Hall.
What has been the defining moment of your career?
I would say there have been many defining moments within my career that push me to keep on exploring and changing as a dancer, but one of the highlights was most definitely the filming of Young Men in Normandy. This was an experience like no other, and for the first time I had the opportunity to delve into a character for the film and approach it very differently to how I had anything else on stage.
What's the most rewarding thing about dance?
The most rewarding thing about dance for me is the ability for people to express aspects of themselves or others in ways that they wouldn't necessarily be able to with words. When I see this happening, it excites me.
What's the worst thing?
A hard thing about dance is injury. For a dancer this is very difficult and personal. It can feel like your mind and body are working in opposition. Your mind wanting to keep going and your body telling you otherwise.
Do you have any pre-show rituals?
Before a show I generally follow the same warm-up, which rarely changes. I guess this may be a ritual as I don't feel right if I skip it. But it is also a great way for me to feel warm and prepared for the show ahead.
Who or what inspires you?
Many things inspire me, whether it is a person, an object, a view or sight, a piece of music, a piece of art, a conversation, or the news. Life in general is the biggest inspiration. Inspiration can be found in all walks of life if you look out for it. And when this is drawn back into dance new things can happen. To experience dance you should also experience life.
What's it like being part of the company?
Being part of the company is like being part of a family. It is very intimate, and requires a lot of trust from all of us. I believe most of our work is built on that trust in one another. Having this understanding of one another creates a great dynamic when we are working together.
How is Young Men different to pieces you have performed before?
Young Men is different from anything else I have done because this was the first time a show I was performing in had such a strong narrative. Something that as a viewer you can follow and understand. So as a dancer this is really interesting for me, because you are inviting the audience to come on this journey with you.
Can you describe it in three words?
Emotional, tense, powerful.
What is your advice to an aspiring dancer?
I would say that if it is something you are truly passionate about and want to do, pursue it. Don't give yourself the chance to have doubts or regrets.
What's next for you?
After Young Men, we are making a start on our next creation. We will be working with
Christopher Wheeldon, who will be re-working his work 'Us', included in our production
'Fourteen Days', presenting an extended version as one half of the next show. The other half is going to be an internal creation by BalletBoyz dancers, working as a collaborative effort alongside the Directors Michael Nunn and William Trevitt, together with composer Charlotte Harding.
BalletBoyz presents Young Men at Wilton's Music Hall from Tuesday 13 to Saturday 17 November.